Contact me if you are interested in my work, wish to hire me as an educator or artist, or to discuss any opportunities. You can search this website for examples of my work, alternatively, go to my LinkedIn profile.
Contact me
Email: mrwilsonyau(at)gmail.com
DM me on Instagram or Twitter.
About me
I'm a London-based artist and freelance art teacher. Born in Birmingham, England, I moved to London in 2007.
Qualifications
In 2006 I graduated with a BA in Architecture from the University of Central England (now Birmingham City University). I then trained as an art teacher at the UCL Institute of Education, London, where I gained a PGCE followed by an MA in Education in Art and Design in 2010.
What I believe
I believe anyone, whatever their age, can draw and use drawing to learn, express themselves and explore the world around them. Making art can be a social activity that breaks down social barriers. In particular, drawing is accessible to anyone and I believe it can improve wellbeing, hence my work in encouraging others to take it up. I'm a keen advocate of drawing, including digital drawing, as a way to foster creativity in relevant, enjoyable and accessible forms for people of all ages.
Work
Outside of making art, my work includes:
Heritage and museums
I currently work at the Zaha Hadid Foundation as their Learning Officer. Until June 2022, I worked for 13 years as part of the public Learning team at the Royal Institute of British Architects, leading on digital learning and community outreach, which included working with those living with dementia and blind and partially sighted people.
Teaching
I am a former secondary school art teacher.
Freelance art educator
I have been a freelance art educator at several leading cultural organisations, including The Design Museum, Sir John Soane Museum, Victoria and Albert Museum, Wallace Collection and Watts Gallery, where I have taught digital and traditional forms of drawing. Contact me if you'd like to collaborate.
Research
In 2018 I was awarded a research grant from the Gordon Ricketts Fund to investigate the influence of the British Empire and its architects on architecture.
Model making: 3D printing and Architectural models
I make handmade and laser-cut models and these have been exhibited across the United Kingdom. Since 2016, I've been designing digital architectural models and which have been 3D printed.
Exhibitions
Every year, I take part in the Urban Art fair in Brixton. In 2014 I contributed to a photographic exhibition at the Royal Academy, London.
Interviews
I do a lot of drawing, especially on the Tube, which has been the subject of an interview (2019) with the Londonist. You can also discover what I think about creativity and see me demonstrate some new drawing ideas in a filmed discussion (2020) with The Big Draw.
Award(s)
This heading should be empty! But I have a fond memory of winning a public drawing competition when I was ten years old at the Midlands Art Centre in conjunction with musical group Saxtet. My winning entry was 'The Old Castle' a theme inspired by composer Mussorgsky's 'Pictures at an Exhibition'. I think I must have been inspired by Dudley Castle, a place I would have visited often at the time because of the adjoining Dudley Zoo. This is the only art competition I've ever won. It is also the only piece of work by me which my parents willingly framed and displayed in their living room. Perhaps this is where my artistic career peaked, I can live with that!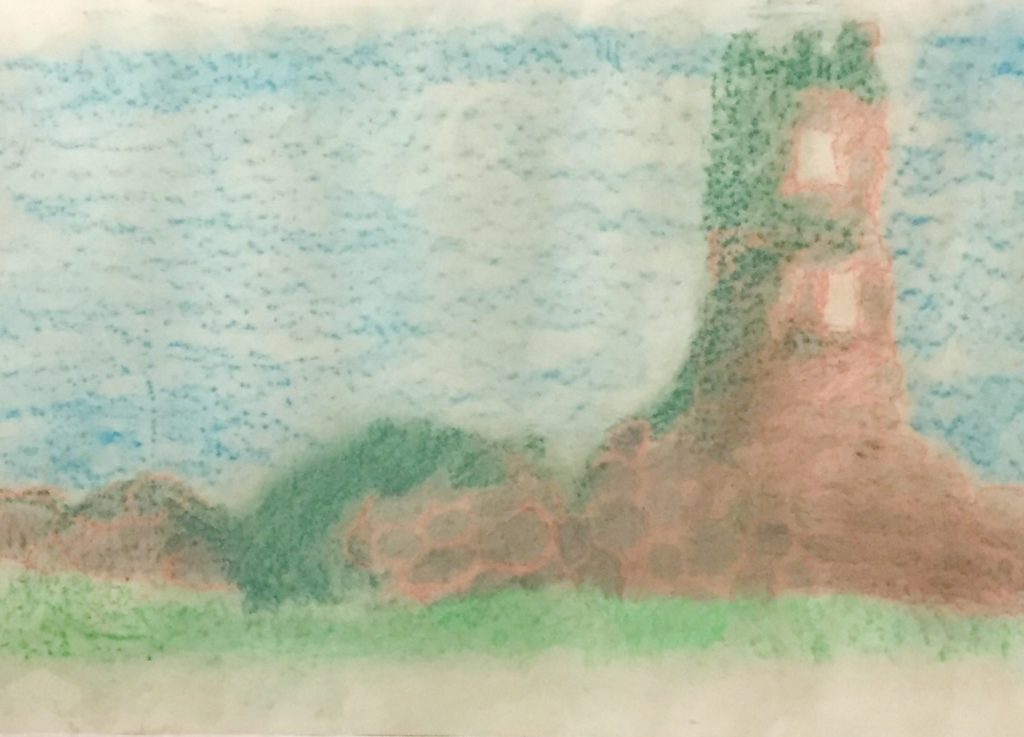 All the work on this website is my own and © Wilson Yau 2007-2023. Do spread the word and attribute to this website, thanks!