Get in contact with me if you wish to hire me as an educator or artist, or to discuss any opportunities. You can search this website for examples of my work, alternatively, go to my LinkedIn profile.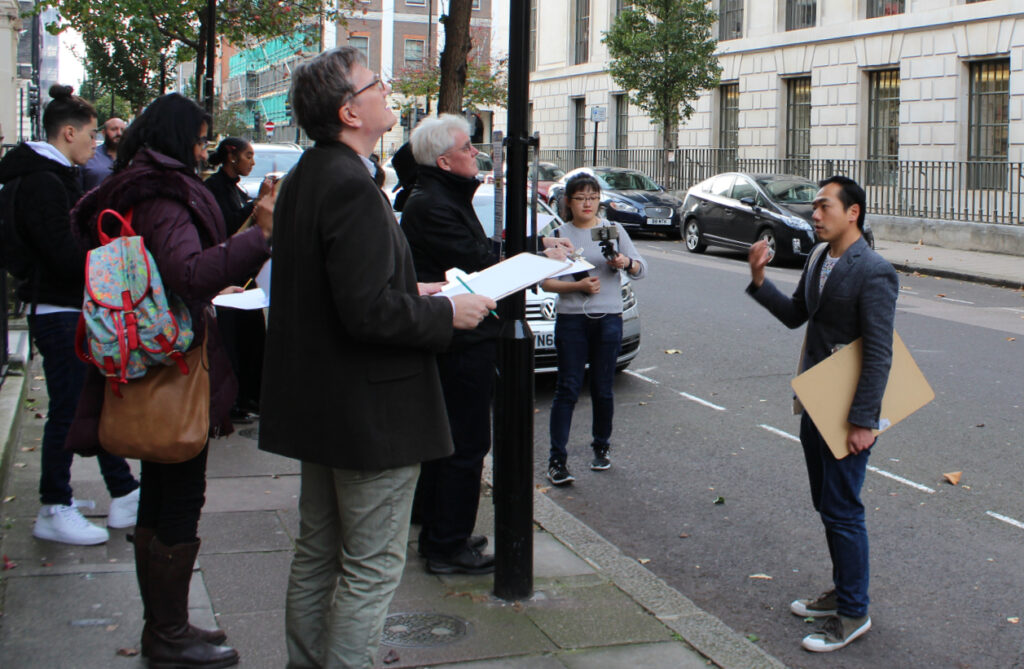 Qualifications:
I gained a MA in Education (2010) and PGCE (2008) from the Institute of Education, University of London, and I am DBS checked.
Freelancing and museum education
I have taught art to older people, adults, young people and children in museums and art galleries, where often the institution's collections and exhibitions are used as inspiration. I've led in-person and online creative workshops exploring how to draw using traditional and digital media and model-making techniques at cultural organisations such as Engage, Museum of the Home, Sir John Soane Museum, Victoria and Albert Museum, Wallace Collection and Watts Gallery.
For 13 years, I led workshops at the Royal Institute of British Architects (RIBA), London, teaching adults and children to use technology such as coding, 3D printing and iPad drawing to make art with architecture as the inspiration. In the RIBA's Explore and Make workshops for over 50s I have been devising and leading art sessions where participants are supported to explore a different media each month in person and online.
Secondary schools
I was formerly a full-time art teacher in schools across London. I have experience teaching all age groups, in particular Key Stages 3 to 5 in the state sector, either working in tandem with other teachers and educators, or leading lessons on my own. The focus of my teaching was art and design, where I would find ways to bring architecture and the work of architects into the classroom. Whilst devising schemes of work and supporting students' learning, I also oversaw the welfare of my students.
A few examples of my teaching, via Twitter:
Artist @MrWilsonYau giving a masterclass @WattsGallery on the creative possibilities of portraiture using Ipads and Smart Phones for 13-16 year olds. Places still available on 22 & 23 Feb, 2-4pm. Book here https://t.co/lwaU2cYqhg #FamilyFebruary #wattsgallery pic.twitter.com/HktaX8hD5Z

— Watts Gallery (@WattsGallery) February 20, 2020
'It's about using your digital device to make something, to squeeze creativity out of even the mundane moments' @MrWilsonYau @WattsGallery #MakeFestival pic.twitter.com/nZgm1ixQnl

— Nerissa Taysom (@nerissa_taysom) September 23, 2018
We are loving @MrWilsonYau daily art experiments! Talk about commitment and putting a creative habit in place. Check out his 101 daily lockdown drawings and be inspired to start your own 😊👍✏️ https://t.co/l7hlDziVUN

— The Big Draw® ✏️ (@The_Big_Draw) January 27, 2021
Great day to be outdoors sketching architecture, perfect day to be indoors air-conditioned discovering the #RIBACollections; all part of the architectural drawing masterclass with @RIBA and @WallaceMuseum

A lovely group of talented sketchers! #RIBALearning #DigitalDrawing pic.twitter.com/GtiTIhZGbo
— Wilson Yau (@MrWilsonYau) June 30, 2018
Here's a pic of me @V_and_A iPad workshop led by the wonderful @MrWilsonYau. So inspiring to play with all the iPad apps, thanks Wilson! https://t.co/lyyVMStXoP

— lucinda.macpherson (@lutiflower) July 16, 2017