A temporary escape from my problems…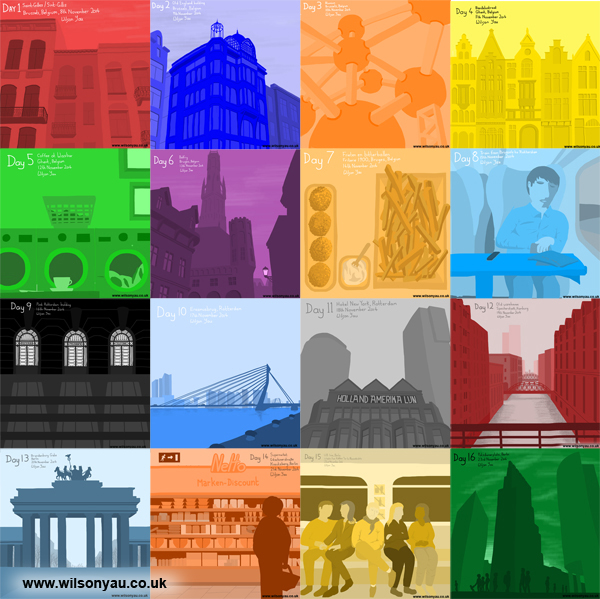 Life in London wasn't going well and I needed a big break! So, in November 2014 I left it all behind temporarily and spent 16 days travelling alone (17 if you count my time in Berlin Schönefeld Airport), visiting six cities in three European countries. I enjoyed every part of my trip and grateful to have had the priviledge of visiting places I had only ever read about or heard of from other people. On my smartphone I marked each day by completing a drawing of something I saw that day.
My journey: Brussels → Ghent → Bruges → Rotterdam → Hamburg → Berlin
---
Day 1: 19th-century apartment buildings, Brussels, Belgium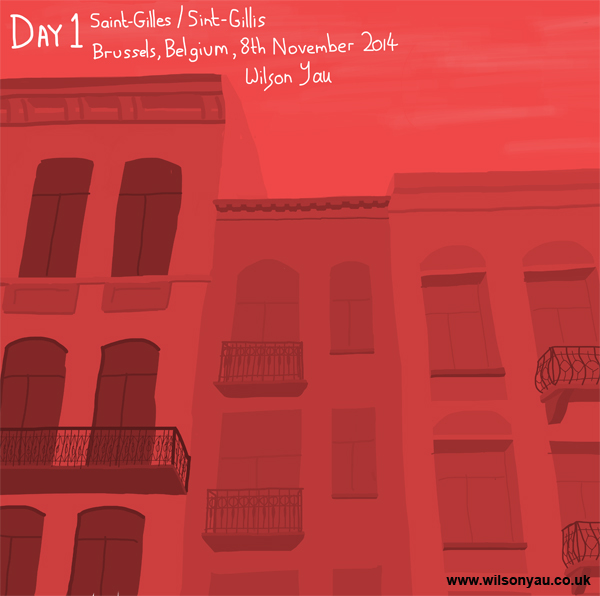 It's great just to walk around Brussels. There was lots to explore in the area of Saint-Gilles, with its many Art Nouveau houses and museums like the Horta Museum.
---
Day 2: Old England building, Brussels, Belgium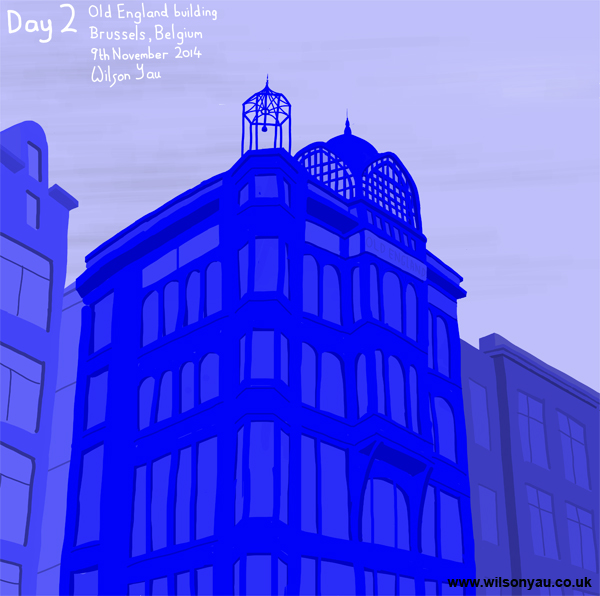 It was late at night, so I never got inside the building in the city centre that now houses the Musical Instruments Museum. At least I got to see its beautiful art nouveau façade for free.
---
Day 3: Atomium, Brussels, Belgium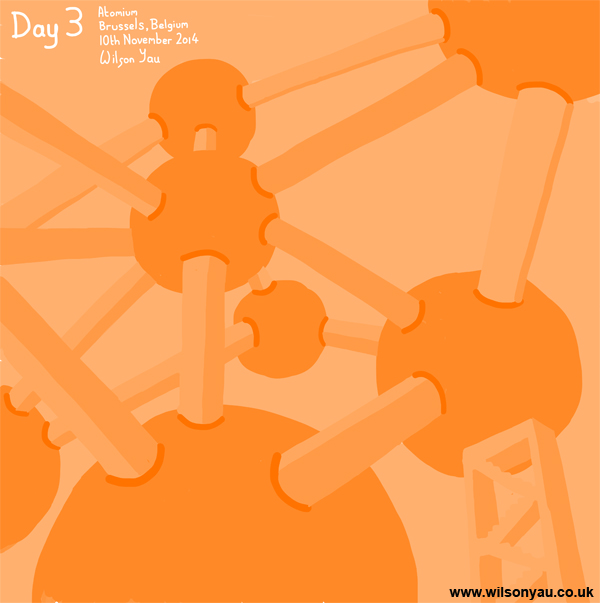 North of the centre and far from the south where I was staying, a tram ride was necessary for me but worthwhile to experience the unusual spaces inside the spheres of the Atomium. Beware the long queues.
---
Day 4: 19th-century gabled houses, Ghent, Belgium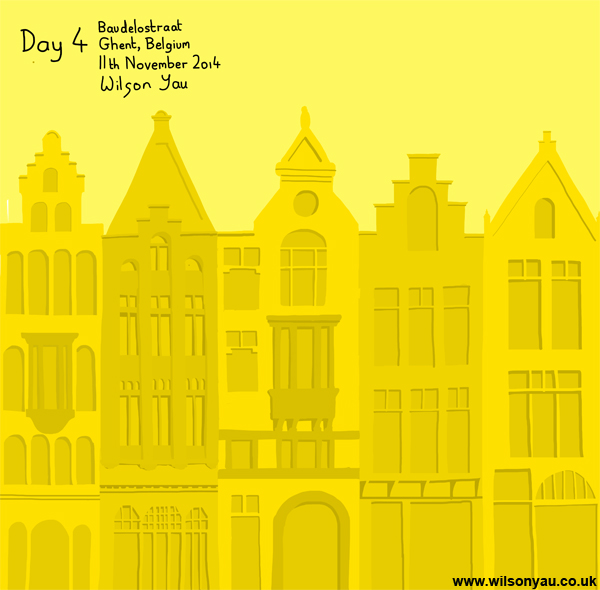 Ghent is a small but fun city. Its architecture is mainly medieval, or sympathetically Gothic in style like the gabled houses of Baudelostraat. Nearby you can get excellent fries from Frituur Jozef, it's a van in the middle of Vrijdagmarkt, one of the city's squares.
---
Day 5: Wasbar, Ghent, Belgium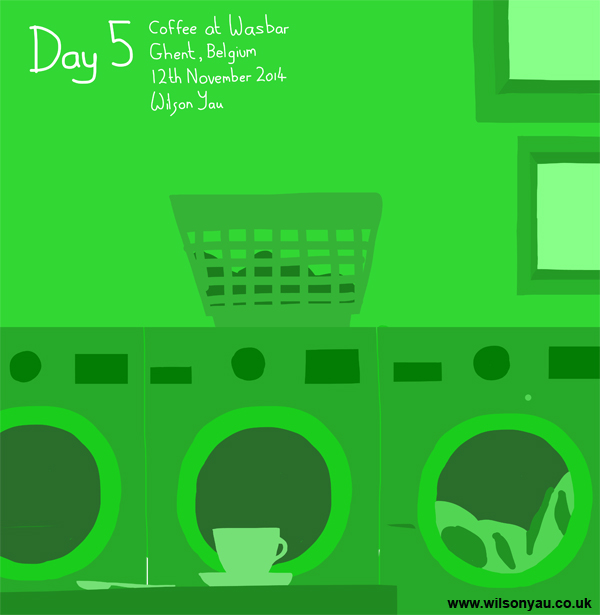 I had read about Wasbar on a design blog a year before, discounted it as another foreign place I'd never see and promptly forgot about it. By chance I saw it again while in Ghent. It combines laundrette and coffee bar successfully – the coffee was excellent.
---
Day 6: Belfort (Belfry), Bruges, Belgium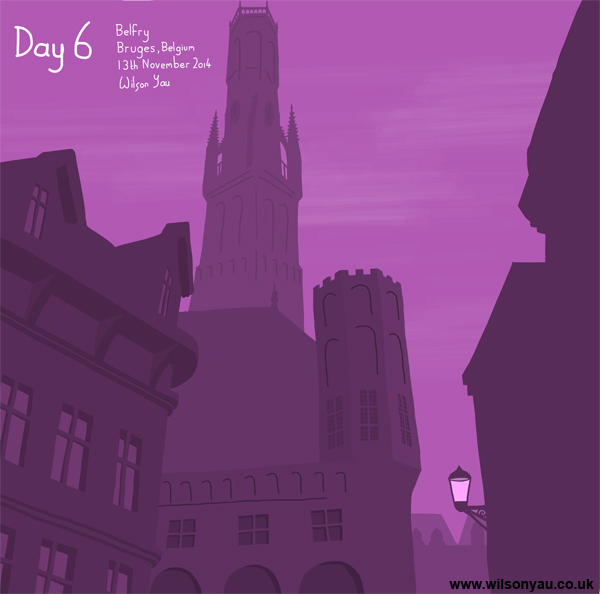 It's a great place for a romantic trip, but I was travelling alone in Bruges. It's hard to miss the Belfort, the tallest structure in the city and I used it to navigate the narrow streets when I got lost (sometimes it's nice not to rely on Google maps).
---
Day 7: Friterie 1900, Bruges, Belgium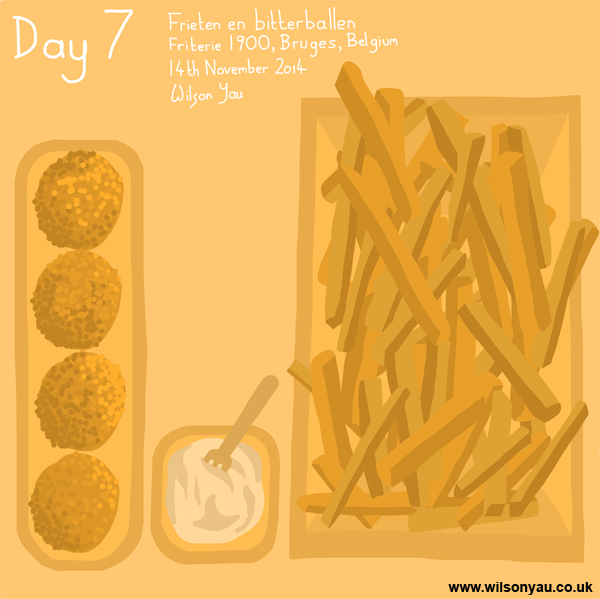 Travelling alone meant I avoided resturants. Most days though I found myself going to a friterie or frituur to enjoy some fries – I was lucky, they all seemed to be good. Try the cheap Friterie 1900 in Bruges's main square, the extremely touristy Markt.
---
 Day 8: Train journey, Brussels to Rotterdam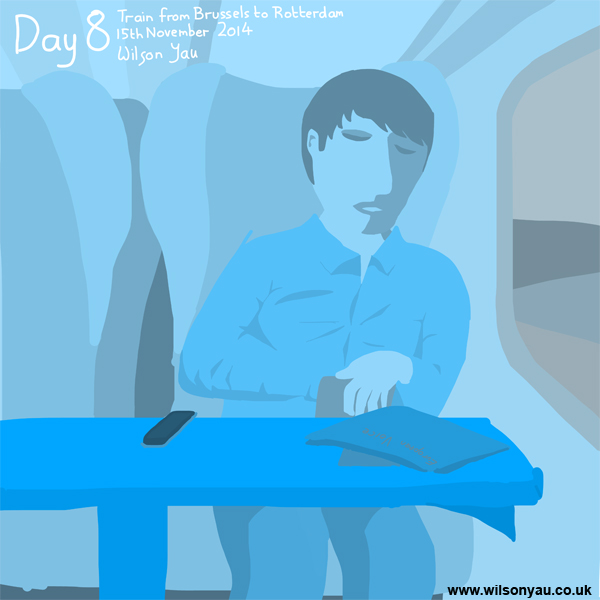 Arriving at the enormous and modern Rotterdam Centraal station was a contrast to the compact medieval cities I saw before; this and other buildings gave me the impression that Rotterdam is what cities in the future might look like. The future looks quite exciting.
---
Day 9: Post Rotterdam building, Rotterdam, Netherlands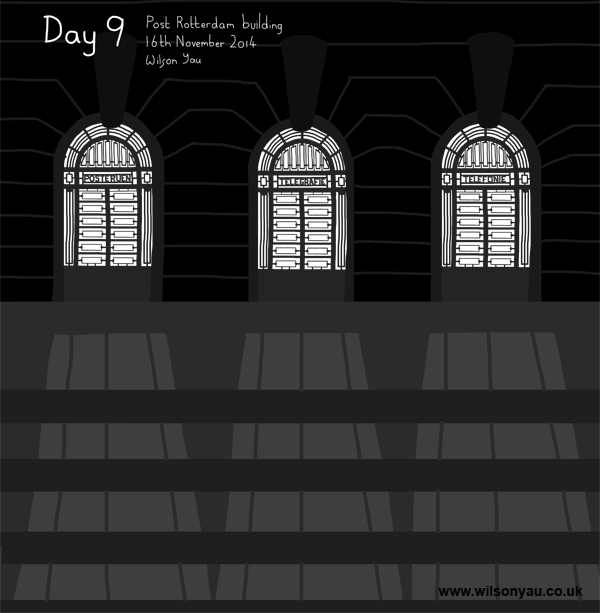 Not everything in central Rotterdam was destroyed during World War II. The Post Rotterdam building is one of the survivors. Old buildings in Bruges are common to the point of becoming dull, in Rotterdam every one of them are special and deserve attention.
---
Day 10:  Erasmusbrug (Erasmus Bridge), Rotterdam, Netherlands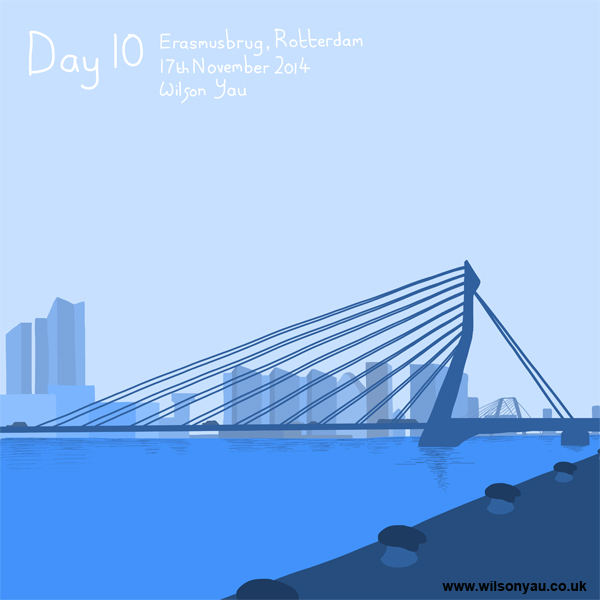 You can drive a car or take a tram across the bridge, but I'd recommend walking, even on a cold day, just for the views of a place that looks like Manhattan.
---
 Day 11: Hotel New York, Rotterdam, Netherlands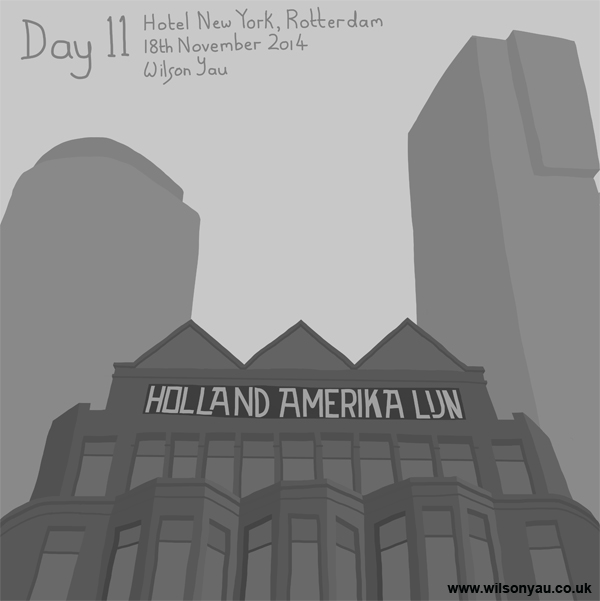 I had expected little of Rotterdam and I heard little about it from other people. There were hefty guidebooks on every city I planned to visit, except Rotterdam. The place was a mystery and turned out to be a pleasant surprise. Great architecture, food and people.
---
Day 12: Old warehouses, Speicherstadt, Hamburg, Germany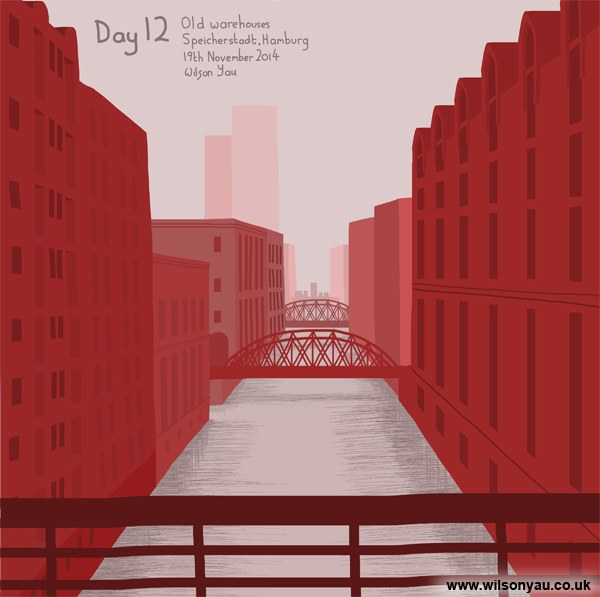 I didn't realise how far Hamburg was from Rotterdam, or how big Germany was. It was a geography lesson. There was plenty to see in Hamburg around the Speicherstadt and some good museums like the Hamburger Kunsthalle, way too much for one day though.
---
Day 13: Brandenburg Gate, Berlin, Germany
I'd expected that there would be plenty to see and do in Berlin. There was, but the great atmosphere and history was an extra I hadn't expected. It's not pretty like Bruges. It's not a boring place like Bruges. It's absolutely fascinating!
---
Day 14: Supermarket in Kreuzberg, Berlin, Germany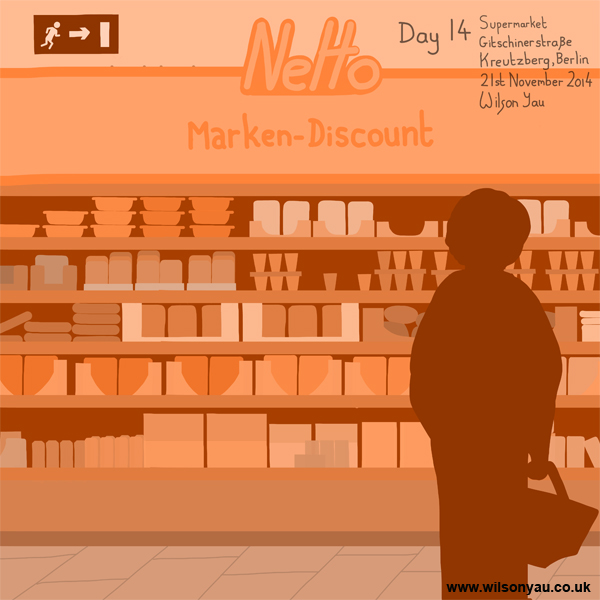 At times Berlin closely resembled my life in London, another world capital. There was a multitude of world-class museums and buildings to see, but it was enjoyable to just do something mundane like going food shopping, a comforting reminder of being home.
---
Day 15: U8 line, U-Bahn, Berlin, Germany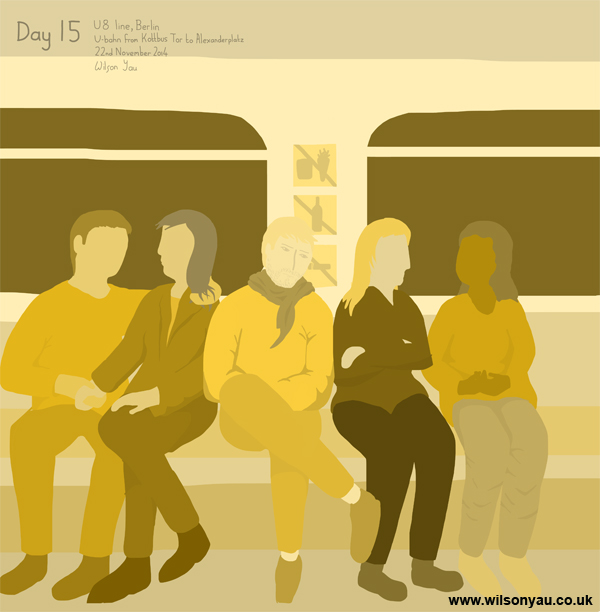 I was a regular user of the U8 line, as I lived in trendy Kreuzberg during my stay. If I lived in Berlin, I guess these journeys would be a good indication of what my life would look like; my commutes would closely resemble those I undertake in London every day!
---
Day 16: Potsdamerplatz, Berlin, Germany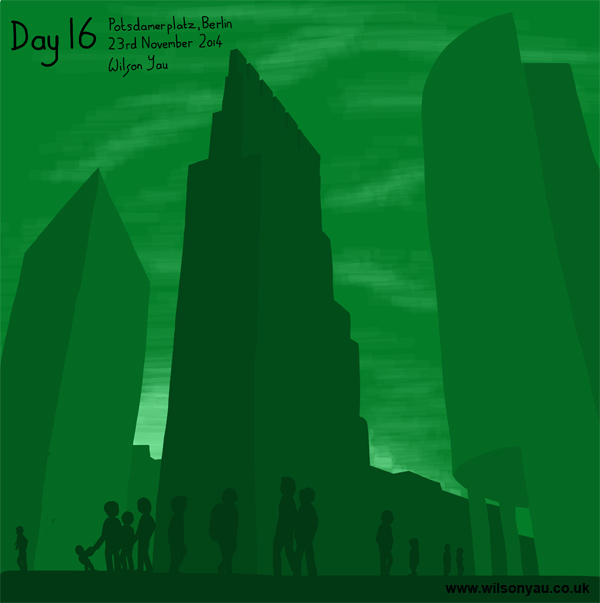 Potsdamerplatz to me was just another name that existed in history books and architecture magazines. My visit there meant I could see it was a living place, full of traffic, people, shops, entertainment and, of course, traces of history.
---
Day 17: Berlin Schönefeld Airport, Berlin, Germany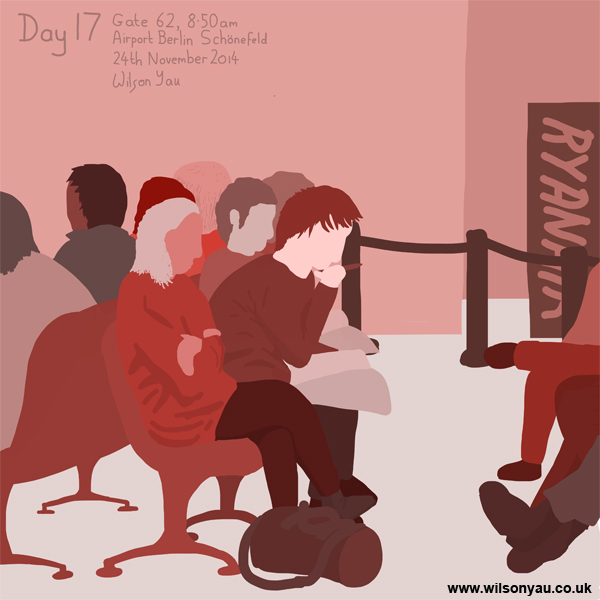 My entire trip was made by train from the moment I left on the Eurostar terminal at St Pancras, London. For practical and economic reasons I flew back for my return, but it gave me an extra day to sort out my life in London and prepare to leave the flat I hated so much.
---
Medium: Digital drawing on iPhone 6 using Adobe Ideas app
Date drawn: 8th November – 24th November 2014 onsite
Drawings:
19th-century apartment buildings, Brussels, Belgium
Old England building, Brussels, Belgium
Atomium, Brussels, Belgium
19th-century gabled houses, Ghent, Belgium
Wasbar, Ghent, Belgium
Belfort (Belfry), Bruges, Belgium
Friterie 1900, Bruges, Belgium
Train journey, Brussels to Rotterdam
Post Rotterdam building, Rotterdam, Netherlands
Erasmusbrug (Erasmus Bridge), Rotterdam, Netherlands
Hotel New York, Rotterdam, Netherlands
Old warehouses, Speicherstadt, Hamburg, Germany
Brandenburg Gate, Berlin, Germany
Supermarket in Kreuzberg, Berlin, Germany
U8 line, U-Bahn, Berlin, Germany
Potsdamerplatz, Berlin, Germany
Berlin Schönefeld Airport, Berlin, Germany