Next markets
Hopefully you are safe and well. Due to the COVID-19 pandemic, lockdown and the important work we can all do in socially distancing in the UK, I expect that I will not be participating in any markets until late 2020 and my Etsy shop is currently closed. Even though I'm not selling I'm still making art and sharing it online, so keep checking this website and the latest drawings will be on my Instagram account.
What to expect at a market
At my stalls, expect to see my designs on tote bags, postcards, greeting cards, mirrors, notebooks and A4 and A3 prints.
I find markets exciting, either as someone with a stall or as a shopper buying from independent makers and designers. Sometimes you can catch me selling my artwork at markets around London, where you can chat with me about my work and get some drawing tips! It's always a great pleasure to meet people and share stories about the Tube. It's a wonderful feeling to know that something I created, be it a postcard or a large print, ends up going on display in someone's home or given as a gift to people they care about. Below is a list of my upcoming and past markets. If you can't make it, I have an online shop.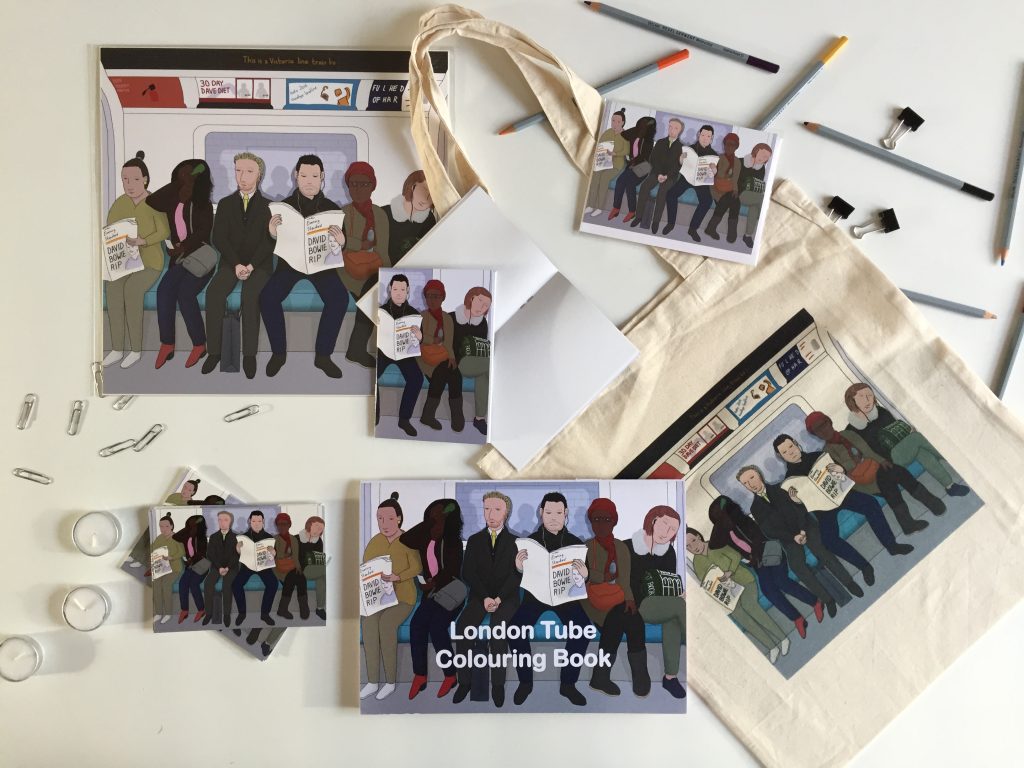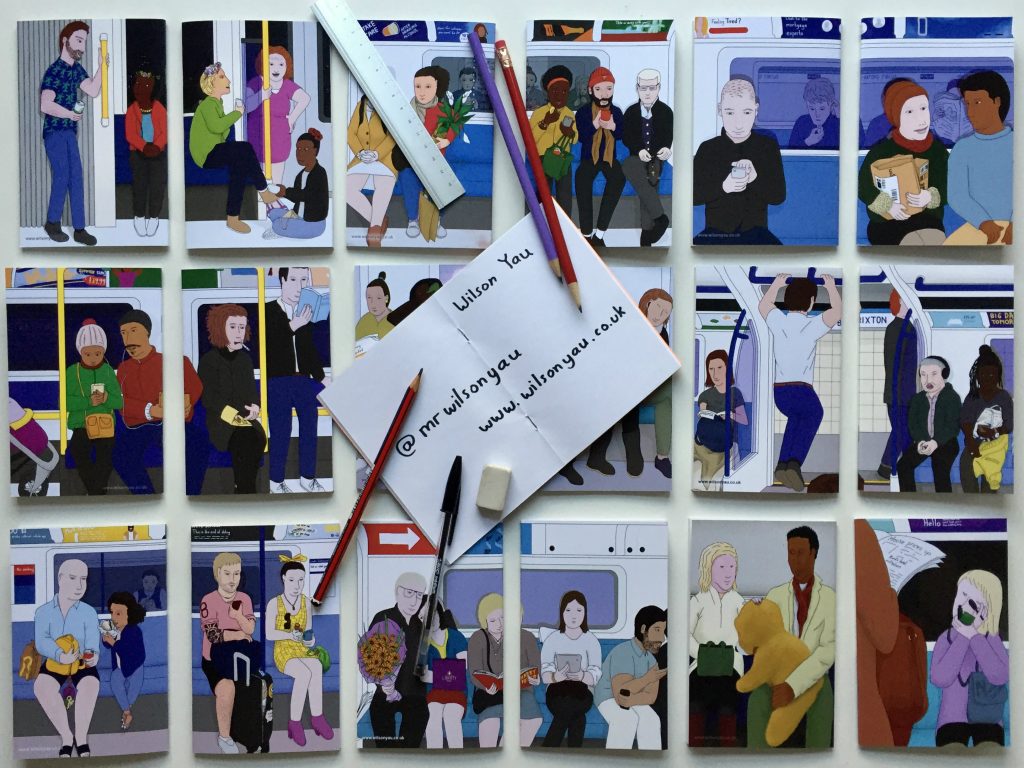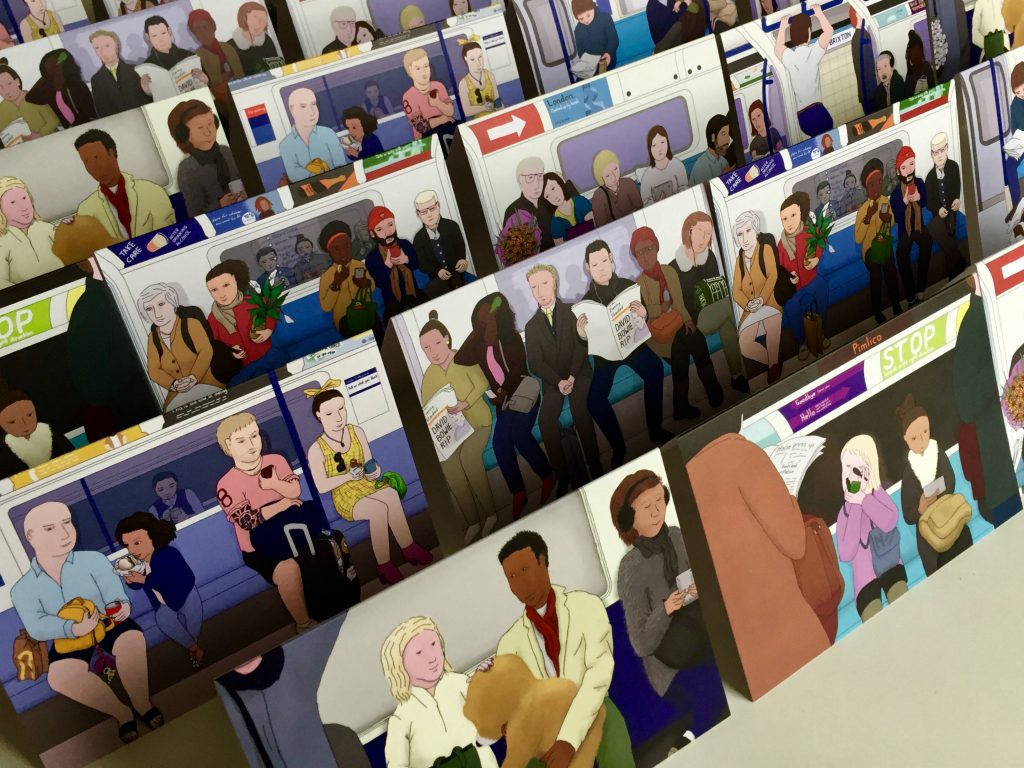 Past markets
2019
14th December 2019: Christmas Makers Market
95 Princedale Road, Notting Hill, London, W11 4NS
8th December 2019: Winter Design & Craft Fair
Station Hall, Herne Hill, Railton Road, London, SE24 OJW
24th November 2019: Crafty Fox Market
The Department Store, 248 Ferndale Road, Brixton, London, SW9 8FR
12th – 14th July 2019: Crafty Fox Market at King's Cross
West Handyside Canopy, King's Cross, London, N1C 4BH
4th May 2019: Crafty Fox Market,
Mercato Metropolitano, Newington Causeway London, SE1
27th April 2019: Solo Craft Fair,
St. Barnabas Parish Hall, 23 Dulwich Village, Dulwich, London, SE21 7BT
2nd March 2019: The Collective,
Hawker House – Street Feast, Canada Street, London, SE16 7PJ
26th January 2019: Saturday Flea and Handmade Market at Lower Marsh,
Lower Marsh Market, London, SE1
2018
18th and 20th December 2018: Handmade Palace pop-up market,
Crystal Palace Train Station, London, SE19
December 2018: Crafty Fox Market at King's Cross,
Canopy Market, West Handyside Canopy, King's Cross, London, N1
December 2018: Made in Camberwell Arts Market,
Butterfly Walk Arcade, Camberwell, London, SE24
November 2018: Local Makers Market,
Abney Hall, Stoke Newington, London, N16
September 2018: Urban Makers,
Old Spitalfields Market, London
July 2018: Urban Art,
Josephine Avenue, Brixton, London
June 2018: Crafty Fox Market,
Mercato Metropolitano, Elephant & Castle, London
March 2018: Crafty Fox Market,
Mercato Metropolitano, Elephant & Castle, London
2017
November 2017: Bazaar, Portico Gallery,
West Norwood, London
July 2017: Urban Art,
Josephine Avenue, Brixton, London