Black is the main colour of umbrellas.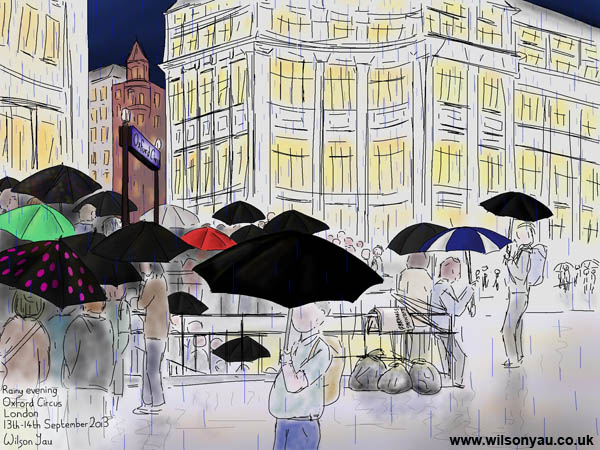 It has been a wet end to the summer. It was a Friday evening, I had finished work and I was making my way down to Oxford Circus station when it rained heavily. A lot of people walking carelessly with pointy umbrellas too close to other people's eyes – it doesn't help when no one is the same height. As usual the station entrances were closed off periodically at rush hour to prevent overcrowding on the platforms, leading to clusters of umbrellas and wet people on the steps leading down to the station. It was as this happened I began sketching the scene whilst safely under the shelter of a shop doorway.
I sketched for a few minutes on my iPhone before the station reopened. I worked in the colour and details in from a photograph in the warm, dry comfort of home. Below is a video recording the stages of this drawing being created.
Medium: Digital drawing on iPhone
Date drawn: 13th – 14th September 2013